Community Members who have the badge in their wishlist // 2 users

---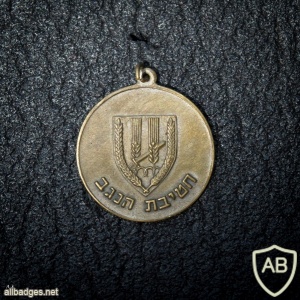 Palmach 'Negev Brigade' War of Independence combat commem token
Palmach Negev Brigade combat commemoration token (ND), circa. 1949-51; no makers mark; weight: 9.9g; size: 30.5mm. Obverse depicts the Brigade's emblem with title "Negev Brigade"; on reverse a list of the Brigade's operations and places of operation in the War of Independence: "Beseiged Negev, [operation] Yoav, Beersheva, Lot, Sdom, [operation] Khorev, Abu Agila, [operation] Uvda, Eilat".
The 12th Negev Brigade, established in May 1948, was a prominent military force in the War of Independence, participating in several celebrated actions and counting among its units the famed "Desert Animals" commando force. It operated in the northern and southern Negev desert during the war, and afterwards and since it is an infantry reserve unit.
Estimated date for this item is based on the listing of "Eilat" on reverse: in March 1949 when the Brigade liberated that region it was still known popularly as Umm Rash Rash (even though the name "Eilat" is from Biblical times); if listed on the token as "Eilat", it may be from the period just after the war when it started to be developed into a town. In EF: the tallion was originally silver finished but some of the finish (on obverse) has since worn off.